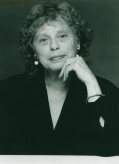 Annual Dinner and Scholarship Benefit 2013
PBKACA is proud to announce that Lois Weisberg, former Chicago Commissioner of Cultural Affairs (1989-2011), will be honored at our 2013 Annual Dinner and Scholarship Benefit on Friday, November 15, 2013, at The Casino.
Peter Sagal, host of National Public Radio's Wait, Wait…Don't Tell Me!, will present the award to Weisberg.
A 1999 New Yorker article by journalist Malcolm Gladwell described the lifelong Chicagoan as a "particularly rare and extraordinary type of person"—a connector. "She's the type of person who seems to know everybody," wrote Gladwell, adding that she used that skill to become "arguably the most important civic activist in the city" and "the epicenter of the [Chicago] city administration." In 2012, a Chicago Tribune article called her "the grande dame of Chicago culture."
With Weisberg at the helm as Commissioner of Cultural Affairs, Chicago took on a new and particular beauty. Events including Jazz Fest, Gospel Fest, Cows on Parade, and Gallery 37, to name a few, flourished under Weisberg, who in her youth ran a bit with the Beat Poets.
She also founded Friends of the Park and was the mastermind behind festooning Chicago's famous public art with giant-sized party hats, sports jerseys, helmets, and caps.
Weisberg will present "Chicagoans I Have Met Along the Way," a retrospective of people she has worked with and befriended in a variety of fields, from the arts to politics. Following her remarks, each dinner guest will receive a copy of "Reading to Your Children," insightful essays written by her late husband and nationally respected civil rights lawyer Bernard Weisberg and her sons, Jacob Weisberg and Joseph Weisberg.
Download the print invitation: Invite (pdf) | RSVP card (pdf)
Date:
Friday, November 15, 2013. Reception: 6:30 p.m. Dinner: 7:30 p.m. Presentation: 8:30 p.m.
Location:
The Casino, 195 E. Delaware Place, Chicago
Tickets:
Buy now via PayPal below, or send a check to PBKACA at P.O. Box 641121, Chicago, IL 60664-1121.

$150 per individual ticket

$2,500 for a table of eight

Make a gift in honor of Lois Weisberg (no ticket)

Questions:
Judi Strauss-Lipkin at jstrausslipkin@gmail.com