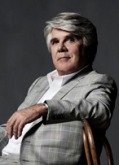 Annual Dinner 2014
PBKACA is pleased to honor Andrew Alexander, CEO, co-owner, and executive producer, of The Second City, at our 2014 Annual Dinner on Friday, November 14, 2014, at The Casino.
Alexander is a major presence in the entertainment scene and also works as a theater, film, and television producer. He is best known for his leadership of The Second City theater company and the hit television show SCTV.
Working as a cab driver, truck driver, speakeasy operator, waiter, tree salesman, marketing manager, ad salesman, magazine editor, and producer in the alternative theater scene in Toronto positioned him well for a career in the Comedy Business. That chance came in 1974 when he became the head of The Second City in Toronto. After almost a decade developing the Entertainment Company, Alexander became co-owner of The Second City Chicago in 1985. Since then, Alexander has actively led The Second City in Canada and the United States for more than 30 years.
Date:
Friday, November 14, 2014. Reception: 6:30 p.m. Dinner: 7:30 p.m. Presentation of award and address: 8:30 p.m.
Location:
The Casino, 195 E. Delaware Place, Chicago
Tickets:
Please RSVP by November 10. Buy tickets now via PayPal below, or send a check to PBKACA at P.O. Box 641121, Chicago, IL 60664-1121.

$165 per person

$2,500 for a table for eight. Email your guests' names to jstrausslipkin@gmail.com.

Make a gift to the PBKACA Scholarship Fund in honor of Andrew Alexander (no ticket)

Questions:
Judi Strauss-Lipkin at jstrausslipkin@gmail.com