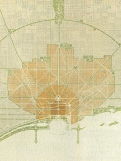 Daniel Burnham Architecture Tour with PBKACA member Robin Simon
**SOLD OUT**
PBKACA member and Chicago Architecture Foundation docent Robin Simon is leading the 4th annual PBKACA architecture tour — which has already sold out. This tour will focus on Daniel Burnham, architect, planner, and leader.
The career of Daniel Burnham coincided with an era in which Chicago architecture evolved from small buildings with load-bearing walls to soaring steel-frame skyscrapers. It spanned a period when Chicago was the fastest-growing city in the world — so fast that many demanded a plan to manage its unplanned growth.
This walking tour of the Loop stops at some of Burnham's best-known landmarks as well as lesser-known designs. Along the way, learn about the man behind the 1909 Plan of Chicago; his partnership with John Wellborn Root; his work with Charles Atwood, Ernest Graham and others; and the impact of the 1893 World's Fair on his work and life.
Attendees may want to read (or re-read) Erik Larson's Devil in the White City to learn more about Burnham. There is also an interesting biography by Thomas S. Hines, Burnham of Chicago: Architect and Planner.
The tour is sold out, as it is limited to 15 participants, with up to one guest per PBKACA member.
| | |
| --- | --- |
| Date and Time: | Saturday, July 26, 2014 from 10:30 a.m. to 12:30 p.m., with an optional lunch afterwards (Dutch) |
| Location: | Federal Plaza near the red Calder sculpture, 230 S. Dearborn, Chicago, between Adams and Jackson (CTA Red/Blue lines Jackson stop, Brown/Orange/Pink lines Harold Washington Library stop, many different bus options stop within a block of there) |
| Waiting list: | To be added to the waiting list for this sold-out tour, contact Robin at robinsimonsez@earthlink.net with your name, number of people, and your cell phone number (we have had to call people due to rain in the past.) She will contact you if there are any cancellations. Note: If you hear from Robin's spam filter, just ignore it. She will see your message and let it in. |