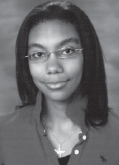 Announcing our 2007 Scholarship Recipient—Dominique Barron
PBKACA is proud to announce that Dominique Barron of Walter Payton College Prep High School is the 2007 recipient of the $5,000 PBKACA College Scholarship. This fall, Dominique will attend Georgetown University with a major in international relations. Dominique hopes to become a lawyer and work with international clients. In that way, she can combine her interests in the law and business administration to help corporations improve their international business marketing.
An honors student, Dominique scored in the top 5 percent of students across the nation who took the ACT. Aside from her academic achievements, her principal and teachers have described her as an extremely well rounded, committed and motivated scholar — "a remarkable young lady." At Payton, she is the president of Payton for Hope, a group that she helped to found that fundraises for the American Cancer Society. As a member of student government, she helped organize a book drive to benefit victims of Hurricane Katrina. The book drive was a success, with over 700 books collected from students and local bookstores.
Dominique hopes to continue her work in the community and says that she would like to help build a community center for underprivileged children. The center, Dominique explains, would "foster activities geared towards helping such students excel in sports, the visual and performing arts and academics."
In her spare time, Dominique has been taking flute lessons for seven years. She has participated in the Sherwood Conservatory Summer Flute Institute and auditioned for the Chicago Symphony Orchestra Protégé Philharmonic.
The PBKACA College Scholarship — now in its second year — is awarded based on academic achievements, leadership abilities, extracurricular activities and financial need. Applications were distributed to each Chicago public high school, and the number of applicants nearly doubled from last year's total. Five finalists were selected and interviewed by the PBKACA Scholarship Committee, which is chaired by Board members Emelda Estell and Michael Silverstein. The Committee also works closely with Danielle Cox-Jones, Scholarship Program Manager of the Office of High School Programs for the Chicago Public Schools.
PBKACA also awarded $500 each to PBK initiates at several Chicago-area chapters. Congratulations to the following students: David Malec, Lake Forest College.