Announcing our 2018 Scholarship Winner – Catherine Oliva
This year's winner is Catherine Oliva. She is the valedictorian at VonSteuben High School and will attend Northwestern University in the fall. She plans to major in chemistry and then go on to medical school.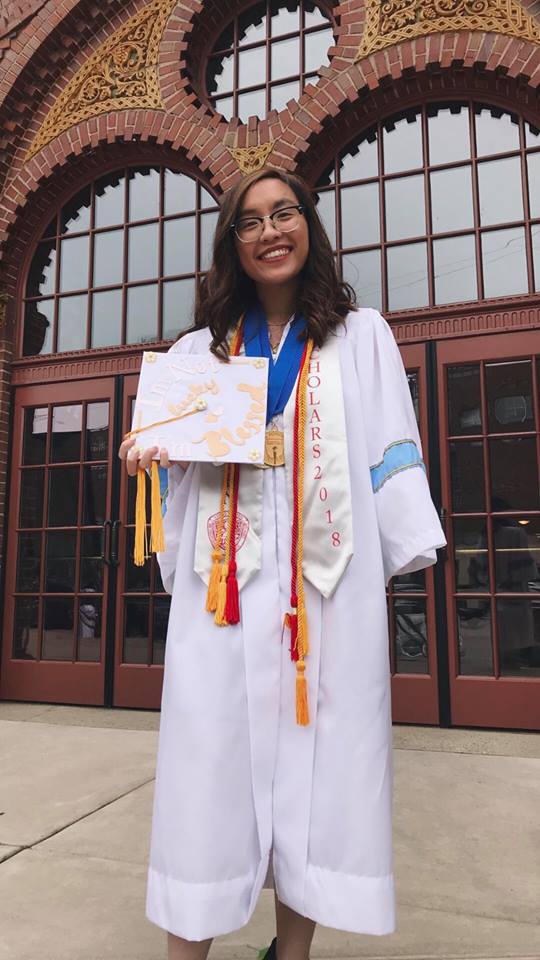 Here is Catherine's letter to our scholarship committee:
I want to genuinely thank you for awarding me this scholarship. Growing up, my mother taught me that money doesn't mean everything, and I agree. For example, I realized that the love and support of my loved ones was worth more than green paper. However, in some cases, money seems to be the only resort. With that being said, I've seen my mother work sixteen hour shifts to both pay the bills and give her family luxuries in life. She would either come home late at night from work or return the next day. I recall how much my heart ached from seeing her work that hard to provide.
Thus, I grew up seeing my mother as my role model. I knew I couldn't work while going to school, so my repayment to her was working hard in school to achieve her dream for me: becoming valedictorian. Through the four years at Von Steuben, I was faced with late study nights, while balancing extracurricular activities, such as dancing, National Honor Society and Spanish Honor Society. Despite having a full schedule, I knew that seeing my mother's face as I was named valedictorian was worth all the restless nights. Unfortunately, I didn't think being valedictorian would automatically guarantee me entrance into college, because of how many other qualified applicants there were.
Little did I know that the PBKACA scholarship would answer my prayers and help me pay for college. However, did more than that. Now I am able to attend Northwestern University (my dream college since I was a little girl) and alleviate the financial stress for my family.  I am eternally thankful and will use this scholarship to further my education at Northwestern as chemistry major on the pre-med track.
I am actually writing this statement sitting in my dorm room at Northwestern, since I am part of Bio & Chem EXCEL summer program. Without PBKACA and guidance of my family, who knows how I would be spending my summer?  However, because of both, I am able to get an early start and pave an even more permanent stance in dreams of becoming a doctor. Just like my mother, I hope to make my mark in the medical field and work to especially aid those in underprivileged areas.
Best regards,
Catherine Oliva