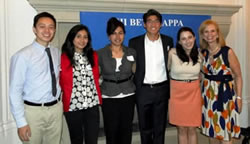 Help Us Expand the Scholarship Program
June 2013
We are proud to help gifted and idealistic young persons from Chicago Public Schools pursuing higher education with a $5,000 scholarship from our Association.
Read about our scholarship recipients »
With your help, we can continue and expand this program. We want to be able to renew funding for winners through all four years of college if their grades and recommendations support our contribution. To be able to do this, we need to add to our current scholarship account and to build our PBKACA Endowment to at least $500,000 for this permanent funding.
We ask that all key holders give whatever they can afford to help these exceptional students. Any amount will be greatly appreciated.
You may donate by downloading and print the donation form (.pdf) and send a check made payable to the PBKACA Scholarship Fund directly to our P.O. Box 641121, Chicago, IL 60664-1121. You can also make a donation online now by clicking on the PayPal button below.
We have a professional in our organization who can meet with you personally to discuss these matters. Please contact Judi Strauss-Lipkin at jstrausslipkin@gmail.com or (312) 988-9996.
One hundred percent of contributions are used to fund the scholarships. Phi Beta Kappa Chicago is a 501(c)(3) organization. All donations are tax deductible and every donation will receive an acknowledgement for your tax records.