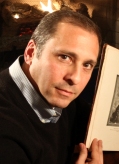 Member profile: Adam Whiteman
July 2012
Attorney, Musician, Psychologist, and Producer
Tell us about your double majors at University Wisconsin-Madison in music and psychology.
I am a product of multiple influences: music; psychology, art and the law. In the 40s, my father played trumpet in the dance halls of his time, and so I grew up in a home filled with the music of Bennie Goodman, Gene Krupa, Count Basie, and Harry James. After World War II, he earned a Ph.D. in psychology and worked as an organizational (psychological) consultant. My mother is an artist skilled in many media as a sculptor, a painter, and an environmental landscape designer. She is an active member of Wild Ones, an organization dedicated to environmental preservation. I was always very close with my uncles who were attorneys with practices in the Twin Cities. My Uncle Allen had an excellent relationship with his clients, one of whom was a criminal who robbed my uncle, but did him the favor of handcuffing him to the refrigerator so he would not get hungry while waiting for help.
What did you know about PBK when you were honored with your key?
I was so busy working hard at college, studying in many areas — from logic to French — that I was shocked when I got my PBK letter in the mail. But my parents knew about the honor as my older sister, Maureen, is also a PBK (and is also an attorney!). Interestingly, my college roommate and best friend, Jack Chorowsky, also earned a key along with me. We went to the induction together, and the certificate is proudly framed and on the wall in my office. It is nice to be rewarded for intense eclecticism. The fact that the key is earned by people who are really not seeking it gives this honor a sheen legitimacy in my mind.
Tell us a little about your law practice.
Out of law school, I clerked for Justice Robert McClaren of the 2nd District Appellate Court in Illinois. Although the judge and I came from very different backgrounds, I learned from him how the law and the search for justice can be a unifying force. After a time in the corporate law world, I struck out on my own and eventually "hung a shingle," with a concentration in real estate and business litigation. I spend a full day working at "lawyering;" with a tremendous amount of preparation; after a full workday I turn to my other world of music and the theater in which I run a record label (Big Chicago Records) and a theatrical production company which runs a musical drama I have penned celebrating the life and times of Francis O'Neill ("Music Mad"). My experience as a lawyer has served well to prepare me in my new role as a theatrical producer.
So is your family as eclectic as you are?
My wife of 24 years and my two sons are the core of my life. She is a loving and binding force who helps me control, focus, and direct my creative energy. Both our sons are accomplished musicians, a violinist and a cellist — and the oldest one is going to attend Lawrence University in the fall to study history, economics, philosophy, and who knows what else. We have worked to always offer them a "liberal arts" approach to life which, in the spirit of PBK would be enthusiasm for pursuits of the mind!
Finally, your musical drama, "Music Mad: How Chief O'Neill Saved the Soul of Ireland" has been very well received, and it has extended its run through July. What does this mean for you?
In the Torah, we learn that Abraham was directed to "Lech Lecha" which means go out into the world. This is my driving philosophy, and one I believe expounded by my literary heroes, Jack London, Earnest Hemingway, and now, Chief O'Neill. O'Neill set himself adrift into the world and navigated a life through the tides of time. I believe my liberal arts education has freed my mind from the shackles of convention. So, too, I have attempted to chart a path based upon my unique proclivities, talents, and interests. The success of my show, "Music Mad," means that with sufficient faith, we can indeed become the means through which thought transforms reality.