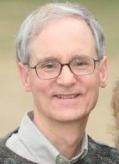 Member Profile: David Hirschey
Fall 2008
David always knew he wanted to be a lawyer. As a focused and studious youngster growing up in Edina, a suburb of Minneapolis, he received an excellent public school education and was on the high school debate team and the public speaking team. He followed his father's dream to attend Northwestern University, where he majored in political science.
Following his graduation from law school at the University of Michigan in 1975, David spent four years in corporate law and estate planning. He began his career with The Northern Trust Company – a large Chicago bank – in 1979 and has been in the field of wills, trusts, and individual retirement accounts for almost 30 years. Currently a senior attorney in the Legal Department, David might be considered a "lawyer's lawyer," providing legal counsel and advice to trust administrators and attorneys in private practice. He has also served as Chairman of the Trust Law Committee of the Chicago Bar Association and in 2003 he received the Austin Fleming Distinguished Service Award from the Chicago Estate Planning Council.
Using his good public speaking skills, David is a frequent speaker at Continuing Legal Education courses, and he enjoys taking very complicated legal topics and making them understandable.
But David's life is more than the law. He is an excellent cook with a large collection of cookbooks. He loves to cook breakfasts, including Swedish pancakes and baked apple pancakes, and he has an aversion to frozen dinners. Recently, he has been learning about wine and tea; a favorite is strong English/Irish breakfast tea.
David also plays golf and goes cross-country skiing. He also loves to fish, often going to Indiana and Chicago-area ponds, as well as a lake in northern Minnesota where his mom still owns a home.
David was introduced to PBKACA by Alvin Edelman, who was our president more than twenty years ago. A fellow trust attorney, Edelman recommended our Association and even bought David a PBK tie tack to celebrate his key. David became an Executive Board member in 2000. David says he enjoys discussing ideas with bright people outside of his legal career.
Hearing about other members' activities and discussing topics as varied as politics, science education, and the Apollo project is part of what makes PBKACA a special organization. Last month, David married Dr. Sue Strohkirch. They met at the University of Michigan in 1973, before she became a communication professor at Ft. Hays State University in Kansas.
David and Sue reconnected after many years and are enjoying PBKACA and Chicago together. Although David always thought he'd become an academic, he's now happy to be married to one. Congratulations, David and Sue.