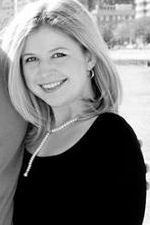 Member Profile: Elizabeth Pridgen Underwood
May 2015
Elizabeth Pridgen Underwood is a learning specialist, working with students who have a formally diagnosed learning disability and/or ADHD, as well as with students who need additional, structured curriculum support. She obtained a master's degree in Learning Disabilities, Education from Northwestern University. She received her Phi Beta Kappa key at Clemson University.
Do you work with a specific subject? If so how did you become interested in that subject?
As this is my fourth year at Alphonsus Academy and Center for the Arts (AACA), I have supported a range of grades, namely second through eighth. Currently, I work with students in fourth through sixth. I provide support in the achievement areas of reading, written expression, and math, as my role lends itself to helping children in core content. I work with students within the classroom in small groups, as well as outside the classroom one-on-one.
I'm assuming you have a teacher's schedule and you're off in the summer. What do you do in the summer to keep busy?
The teaching profession does allow the luxury of choosing whether you want to work in the summertime. I opt to stay very busy by tutoring students privately that I have worked with throughout the year. I have been tutoring in Chicago since 2011 and love the opportunity to stay connected with the students and families by helping the student develop his or her strategy set in reading, written expression, and/or math.
Any special plans this summer?
Aside from tutoring, I will be traveling home to Myrtle Beach, SC to enjoy my family and the beach. I will also be traveling to Philadelphia to spend time with a close friend who is getting married next year, in addition to traveling to Seattle and Portland with my husband for a week-long adventure. When actually in Chicago during the summer, I love taking advantage of all the neighborhood festivals, visiting farmers' markets, and exercising at Pure Barre-Lakeview.
How did you find out about PBKACA? When did you join?
I remember sitting in my on-campus apartment at Northwestern in 2010 and happily stumbling across PBKACA's website during a Google search. I had hoped that an association like this existed, as I wanted my Phi Beta Kappa membership to extend beyond the induction ceremony in college. I did not formally become actively involved until the Fall of 2011 when I was finished with graduate school and started working in Chicago.
What has been your favorite program/activity you've experienced through the association and why?
I have thoroughly enjoyed the events that have partnered with Hubbard Street Dance Chicago. I danced, formally, from the age of four until I was a senior in college at Clemson University. I have a mammoth appreciation and passion for the arts, so I love when I can support other artists in Chicago and have a conversation with other PBKACA members about their impression of the art form.