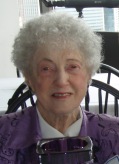 Member Profile: Miriam Pollyea
Summer 2007
The life and career of Executive Board member Miriam Pollyea (PBK Northwestern University) exemplify our PBKACA ideals: enthusiasm for pursuits of the mind. Many PBKACA members know Miriam as the long-time chair of the Book Discussion Group, guiding our choices of books to read and leading the monthly discussions with her deep insight and her joy of reading.
In addition, Miriam has been the guiding force behind many of PBKACA's service projects, including the Chicago Debate Commission. The commission began in 1997 to reestablish debate competition as an extracurricular activity in Chicago Public High Schools. PBKACA members serve as volunteer judges, provide technical assistance and serve as role models for the debaters. Currently, Miriam serves on the commission's advisory board, chaired until his passing by PBKACA member Justice Seymour Simon.
Miriam was born and raised in the Lawndale area, along with her brother and two sisters. Her parents were both immigrants, and they created a home with an international flair and a cultural, educational and socially conscious focus for the family of two sisters and a brother. Through her father, a fine jewelry designer and diamond broker, she met traders from France, Belgium and Africa. Through her mother and other relatives, she developed a love for music, seeing the opera "Carmen" at age 6. She later learned the piano and music composition at the Sherwood School of Music. In fact, she still owns her mother's the Mason & Hamlin grand piano!
At Marshall High School, Miriam was one highly competitive student, serving as the class pianist and a class officer. She won a full scholarship to Northwestern University, and although she planned to major in music, she loved every course she took, from botany to economics to statistics. Her advisor recommended that she transfer to the liberal arts school, and Miriam switched her major to economics. At that time, majoring in economics was not an easy task for a woman. One professor asked her, "Did you think you were in home economics?" Miriam was not discouraged, however, and she worked hard to get A's and show that women could be true scholars. She was initiated into PBK during her junior year. Ironically, she nearly declined membership in PBK because she did not know what the group was and she could not afford the initiation fee. Ultimately, an organization for which she volunteered paid for her membership.
Upon graduation, Miriam began searching for a job as an economist, but once again, she confronted society's stereotypes about women. She received one job offer, but when she was told to bring her steno pad to work, she realized that it was a secretary's position. She declined the offer.
Miriam then took the Civil Service Exam and received the top score. She became an assistant supervisor at the Department of Labor in Chicago in the Minimum Wage, Women's and Children's Division. Miriam married an attorney and a former violinist, and they had two sons and a daughter. Miriam stepped down from her job to raise her children, but she continued participating in a number of volunteer activities, including teaching piano at her children's elementary school. She made such an impression at the school that the principal asked her to become a full-time kindergarten teacher. Miriam agreed, and she earned a master's degree and a certificate in early childhood education.
For over twenty years, Miriam challenged her students and created award-winning educational materials. When mandatory retirement loomed at age 65, she went to Springfield and fought to change the law. Ultimately, the federal retirement age was raised to 70, and Miriam stayed on at the school.
After her husband's passing in 1979, she moved to her current home on the Gold Coast and began a new career in real estate. For 23 years, she has been an outstanding residential broker for the Habitat Company Brokerage Firm.
Throughout her many career changes, her commitment to the liberal arts has been constant. Miriam says she is thrilled about PBKACA's new scholarship program and wants to help students becomes inspired about education and motivated to stay in college. She feels every person should have a college degree and must understand liberal arts in order to function in a democracy. Through her many activities, she has truly become a role model for our PBKACA members, scholarship recipients and the community at large.