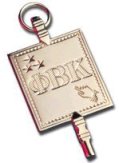 Member Profile: Robin Simon
Academic Information: B.A. in Applied Mathematics and B.S. in Economics, University of Pennsylvania, 1985 (summa cum laude); PBK at Alpha of Pennsylvania, 1984; M.B.A., University of Chicago, 1989.

Professional Information: Head of SimonSez Consulting Corp since 2002; the company helps consumer products companies make better decisions through the use of information and is involved in forecasting and quantitative analysis to support sales and marketing. Worked at Kraft Foods for 12 years prior to starting own firm. Clients have included S.C. Johnson & Sons, ConAgra Foods (U.S. and International), Tropicana Division of PepsiCo, McNeil Labs Division of Johnson & Johnson, Alberto-Culver, Eight O'Clock Coffee Co., and Horizon Organic Dairy. Robin is also a frequent speaker for the Institute of Business Forecasting, giving 2-day seminars for organizations that include Nike, The Gap, GlaxoSmithKline, Molson Breweries and the Social Security Administration.

Favorite spots in Chicago: Any historic building or interesting modern structure/space – I'm a docent with the Chicago Architecture Foundation; Old Town School of Folk Music; [Almost] Any museum.

If I weren't a consultant, I'd like to be a…: Travel photographer, commercial jingle singer, or a musician in a Broadway pit orchestra

Prized possessions: My collection of almost 400 snow globes and family photos.

Favorite book/movie/TV show/website: Wizard of Oz and most old sitcoms.

If I could have dinner with any three people (alive or dead), I'd dine with…: Benjamin Franklin, Lucille Ball, and Daniel Burnham (not sure they would all want to dine with each other, though!).

I'm a member of the PBK Chicago Association because…: I enjoy interacting with smart, interesting people at thought-provoking and unique events.