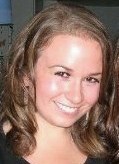 Member Profile: Sarah Whittemore
Summer 2009
Sarah Whittemore joined the PBKACA executive board in early 2009. Only 22 years old, she is the youngest and one of the most active board members. She is an integral part of the Programming Committee, and she has helped plan many recent activities, such as the Young Professionals Happy Hour and the Living Treasure Award reception for Abner Mikva.
Originally from Massachusetts, Sarah graduated summa cum laude from The George Washington University in Washington, D.C., where she majored in English and double minored in Art History and Sociology. Sarah came to Chicago to work at Northwestern University's Office of Alumni Relations and Development as a Program Assistant for Major Gifts. Sarah's ultimate career goal involves merging her current professional field of higher education with educational psychology. She plans to earn a Master's Degree in education and eventually become a high school guidance counselor.
Sarah says her passion for education can be traced to her parents, who have dedicated their lives to educating high school students. "It is through their example that I came to value education and 'pursuits of the mind' — a cornerstone of PBKACA's mission and purpose," she explains.
To that end, Sarah joined PBKACA as soon as she moved to Chicago. "I saw it as an opportunity to explore all that the city has to offer with people of a similarly intellectually curious nature. As someone new to the area and in the beginning of my career, PBKACA has provided me with an opportunity to meet and learn from interesting and experienced fellow Phi Betes."
Outside of PBKACA, Sarah volunteers with other groups, including the Chicago Alumnae Association of Alpha Delta Pi sorority and Chicago Cares. Her hobbies include art — both classical and modern — as well as traveling and cooking.
If you haven't had the pleasure of meeting Sarah, come to one of the many upcoming PBKACA events, where you'll be more than likely to find her.