Announcing our 2022 Scholarship Winner – Ricardo Barajas-Lopez
This year's winner is Ricardo Barajas-Lopez, a senior at Back of the Yards High School. An excellent student, he is also active in both the gaming and poetry clubs. He will be attending University of Southern California in the fall.
Here is Ricardo's letter to our scholarship committee:
Dear PBKACA,
Ever since I was three years old, I've had an unfathomable passion for video games and I knew that I wanted to become a video game developer. My ultimate goal has been to work for Nintendo, whose video games are the reason behind my interest in computer science and programming. Video games are becoming more and more integrated into our daily lives, and I would love to work with the gaming giant to inspire others to pursue the field. However, to work in such a prestigious company I knew I would need to stand out.
Once I was in high school, I began searching for colleges that offered programs that would make my dream a reality. The University of Southern California was everything I wanted. The computer science games program USC offers is like none other. From game design to 3D modeling, it covers many of the aspects that go into development and combines two of my interests seamlessly – computers, gaming and art. 3D modeling is essential because it is the framework for the visuals, and can be one of the first impressions an audience has of a game. I believe the courses offered there will be rigorous enough to fully prepare me to become a successful game developer. I am most especially excited about the semester long gaming projects, which will truly put my knowledge and creativity to the test.
I have always treated school as a gateway to opportunities far beyond my wildest dreams. All throughout high school and middle school, I have given my academics my full attention and earned outstanding grades on every report card. The fruits of my labor came in the form of an acceptance letter from USC. This university offers one of the best programs in the country, but has a very expensive tuition. Financial aid from USC and FAFSA were not enough to cover full tuition and that's where Phi Beta Kappa swooped in to save the day.
With all of the gratitude in my being, I accept the Phi Beta Kappa Association of Chicago Area scholarship. I had always known that paying for college was a challenge my family would face. I feared the financial burden tuition would have on us, yet the PBKACA has made attending the University of Southern California a reality.
With gratitude,
Ricardo Lopez Barajas
Announcing our 2021 Scholarship Winner – Karely Ramirez
This year's winner is Karely Ramirez of Senn High School. She will be attending DePaul University in the fall. She plans to pursue a career in medical sciences.
Here is Karely's letter to our scholarship committee:
Dear PBKACA Scholarship Committee:
I want to begin by saying thank you very much for this opportunity. As a younger kid growing up in a low-income household with immigrant parents, the thought of pursuing higher education after high school was terrifying. I knew I would be the first one to attend college as well, which only added to the uncertainty. Questions ranging from, "How am I ever going to pay for college?" to "What if I am not as informed as I should be?" surfaced constantly.
Nevertheless, I have always been one to challenge not only myself, but also my circumstances. With the COVID-19 pandemic striking toward the end of my junior year and lasting into the entirety of my senior year, I knew I had to adapt to this new situation. My father unfortunately lost both of his jobs as a cook, leaving my mother as the only one providing a stable income. Knowing the financial burden this would put on my family I began working as a cashier not only to aid in costs but to alleviate any stress my parents may have felt about paying for college in such difficult times. Being granted this scholarship is a tremendous help.
During my elementary and high school years, my parents have always supported me in becoming involved with my personal interests, which allowed me to discover my passion for science, the community and the arts. It means a lot to me that I had the space to nurture my creativity. I hope to continue to make my parents proud by pursuing a career in medical sciences. I am forever grateful for the opportunities this scholarship has brought me. I will utilize it to enhance my knowledge at DePaul University and to become more conscious of the ways to better the world around me through my future career.
Thank you,
Karely Ramirez
Announcing our 2020 Scholarship Winner – Jose Muñiz
This year's winner of the Phi Beta Kappa Area of Chicago Association is Jose Muñiz of Back of the Yards High School. He will be attending Northwestern University in the fall and plans to major in mechanical engineering.
Here is Jose's letter to our scholarship committee:
My name is Jose Muñiz and, apart from going to Northwestern next year to study mechanical engineering, I am also this year's PBKACA Scholarship recipient. Receiving this award is such a great honor both to me and my parents. This scholarship not only means that my hard work throughout the past four years of high school have paid off, but also represents a sign of hope.
In the midst of the current global issues, receiving that call of congratulations was a relief and lifted a great weight off my family's shoulders. My parents both came from Mexico during the 1990's and, having little schooling in their homeland, they pushed education on both my sister and me. They have also supported every one of my wildest dreams. From wanting to be a train conductor to an astronaut to a scientist to a mechanical engineer, they always told me I can do it and encouraged me to do my best, not just in my academics but also in my community. Receiving this wonderful scholarship means that their hard work raising me also paid off and that they will not have to stress over how they are going to pay for my studies after high school. This is my way of thanking them for their countless sacrifices. My goal is to make my parents proud to see their first child go off to college in the U.S. This scholarship has made their smiles wider and made them even more proud.
The scholarship means hope. The world is experiencing some tough times right now, but receiving this money means that I am now able to work hard and focus on my studies to become an engineer and make this world a better place. Innovation is critical during these times and I feel that being active not just in our studies but also in community is absolutely necessary if we want to continue to make human life easier and more enjoyable. I will not have to worry about the struggle to find money to continue studying. Focusing on my goal to help the world out is now my only priority thanks to this generous association.
Once again, I would like to thank everyone who forms part of this amazing association and those who sponsor it. I will not take this opportunity for granted and will continue to work hard to make a difference.
Thank you,
Jose M. Muñiz
Announcing our 2019 Scholarship Winner – Yailin Benitez
This year's winner is Yailin Benitez of Prosser High School. She will be attending the University of Illinois at
Urbana-Champaign in the fall. She plans to major in education and then go on to become an elementary school teacher.
Here is Yailin's letter to our scholarship committee:
Thank you for giving me the honor and privilege for being this year's scholarship recipient. I guarantee that the money I have been gifted will be put towards financing many educational opportunities that will make you proud. The revelation of being this year's scholarship recipient has come as a great surprise, a miracle truly.
PBKACA has changed my life for the better in two ways, by offering financial support as well as empowering me as a young female. Like many students in Chicago, I come from a low-income minority family. One of the biggest challenges I face due to my situation is that my future has always been uncertain. Not because of my potential or academic capabilities, but rather the ability to financially support my endeavors. I have always been eager to learn, and I knew from a young age that I wanted to go to university. While I studied vigorously to succeed academically, I dealt with self-doubt and anxiety. In the back of my mind, I persistently feared my efforts would be fruitless. I always knew that my family would never be able to afford university tuition fees. My mind is now better at ease with the financial support PBKACA has given me. I am extremely grateful that my dream to further my education has become a reality.
In regards to PBKACA empowering me as a young female, the Scholarship Committee highlighted the power and impact a woman can have in the modern world. One of the first things I noticed during my interview is that the organization itself is lead by strongly independent, compassionate, intelligent, and hard-working women. In a male-dominated society, it is truly inspiring to see women having important and prestigious positions in the workforce. It has made my ambitions to one day achieve great things to become more realistic in my mindset. I am more motivated and hopeful that I too can one day inspire young people to pursue furthering education to make their dreams a reality. With the $5,000 scholarship, I will be able to pursue my dream of becoming an elementary school teacher, a job in which I can cultivate and nurture the goals and ambitions of generations of young students.
I am excited to attend the University of Illinois in Urbana Champaign this fall and to see how the next four years will unfold. The money I have been given will go towards purchasing books, school supplies, housing expenses, studying abroad, etc. Thank you again Phi Beta Kappa Association of the Chicago Area Scholarship Committee for the honor of receiving this year's scholarship.
With best regards,
Yailin Benitez
Announcing our 2018 Scholarship Winner – Catherine Oliva
This year's winner is Catherine Oliva. She is the valedictorian at VonSteuben High School and will attend Northwestern University in the fall. She plans to major in chemistry and then go on to medical school.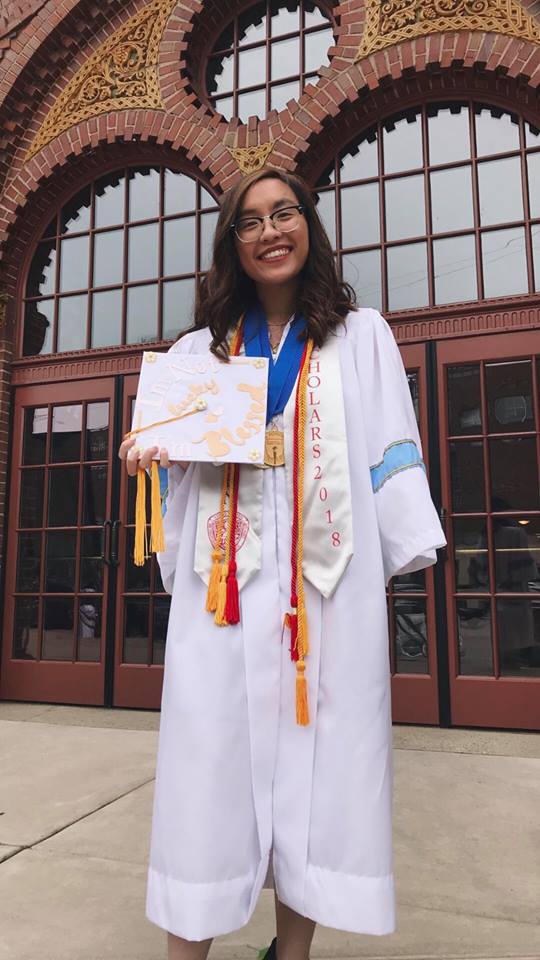 Here is Catherine's letter to our scholarship committee:
I want to genuinely thank you for awarding me this scholarship. Growing up, my mother taught me that money doesn't mean everything, and I agree. For example, I realized that the love and support of my loved ones was worth more than green paper. However, in some cases, money seems to be the only resort. With that being said, I've seen my mother work sixteen hour shifts to both pay the bills and give her family luxuries in life. She would either come home late at night from work or return the next day. I recall how much my heart ached from seeing her work that hard to provide.
Thus, I grew up seeing my mother as my role model. I knew I couldn't work while going to school, so my repayment to her was working hard in school to achieve her dream for me: becoming valedictorian. Through the four years at Von Steuben, I was faced with late study nights, while balancing extracurricular activities, such as dancing, National Honor Society and Spanish Honor Society. Despite having a full schedule, I knew that seeing my mother's face as I was named valedictorian was worth all the restless nights. Unfortunately, I didn't think being valedictorian would automatically guarantee me entrance into college, because of how many other qualified applicants there were.
Little did I know that the PBKACA scholarship would answer my prayers and help me pay for college. However, did more than that. Now I am able to attend Northwestern University (my dream college since I was a little girl) and alleviate the financial stress for my family.  I am eternally thankful and will use this scholarship to further my education at Northwestern as chemistry major on the pre-med track.
I am actually writing this statement sitting in my dorm room at Northwestern, since I am part of Bio & Chem EXCEL summer program. Without PBKACA and guidance of my family, who knows how I would be spending my summer?  However, because of both, I am able to get an early start and pave an even more permanent stance in dreams of becoming a doctor. Just like my mother, I hope to make my mark in the medical field and work to especially aid those in underprivileged areas.
Best regards,
Catherine Oliva
Trenati Baker Update
January 2018
Greetings!
I am going into my second semester of my sophomore year at Amherst College. I've officially declared both my Black Studies and Political Science majors. I've nearly completed the Black Studies major, and I'm working hard to plow through Political Science.
This school year, I took on more leadership roles on campus. In addition to being a part of the Dance and Step team and the African and Caribbean Dance troupe on campus, I am working as a Resident Counselor of the Black Culture House and a Diversity Intern with the admissions office. This semester I will also start working as a research assistant with Professor Drabinski in the Black Studies department, and I will serve as the Event Coordinator of the Black Students Union.
Although this past semester was tough socially as my friend groups changed and I experienced a higher volume of academic stress, I am doing well at Amherst and have matured and grown more than I think I ever have in the last year and a half. I've learned the importance of self-care and the importance confronting mental and emotional health.
This semester, I look forward to more learning, more good times, and larger social networks; however, I feel anxiety about the summer. I really want to be back home in Chicago this summer (I stayed on campus this past summer and worked as a tour guide). I am working on several summer job applications—hopefully I get a good one back home. On the flip side, I feel excited about junior year. I've been speaking with my advisor, and I really want to study abroad all next year! Right now, Trinidad, Brazil, Cuba, and South Africa all seem cool.
All in all, everything is going well, and I am super appreciative of this scholarship and the opportunities and growth it has helped give me access to at Amherst. Thank you!
Update from Zobia Chunara, 2012 Scholarship Recipient
August 2018
Dear PBKACA,
My time as an undergraduate at Yale passed by quickly, with many highs and lows, self-discoveries, new friends, and late nights spent studying. After graduating, I worked in a clinical research lab through the Yale Program of Applied Translational Research where I learned about the intersection of heart failure and renal dysfunction. This internship afforded me the opportunity to work with patients at the hospital, and here I realized my interest in medicine. I proceeded to apply to medical school, and now I am a first year student at the University of Illinois College of Medicine.
I would like to thank the PBKACA for awarding me their scholarship so many years ago. Because of their belief in me, and their generous contribution to my education, I was able to attend Yale without having to worry about the financial burdens it would create for my family. I hope that in the future, I too can help students attend college and give back what PBKACA gave me.
Zobia Chunara
Yale University '16
University of Illinois College of Medicine '22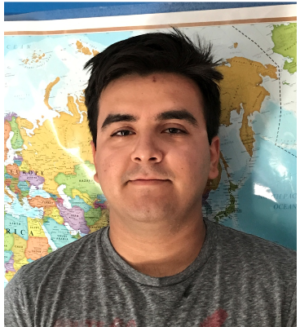 Announcing our 2017 Scholarship Winner – Pablo Romo
August 2017
Pablo Romo will begin his studies at the University of Illinois at Chicago, this fall. He has been awarded the 2017 PBKACA Scholarship. We are thrilled to provide assistance to this young man who we know has a bright future studying mechanical engineering.
Pablo provided PBKACA with the following letter. Meet Pablo Romo, in his own words…
I have grown up in Chicago as the son of two undocumented immigrants. My childhood might have not been the easiest, given the situation, which profoundly affected me and my family financially; however, we have been able to overcome our difficulties and move on as a family raising their children. My parents are my biggest source of influence and motivation for my goal of having a career through college. I have seen firsthand what a life of brutal physical work can do to someone, how it can basically deteriorate someone's health over time. Seeing this, I have been motivated to go to school to pursue a career for myself where I am paid for what I know, not what I can do physically, while at the same time having a passion for my work and a choice of where I do it.
I myself am no stranger to how terrible physical labor can be. Having worked in landscaping since I was about fourteen, my experience of harsh conditions has further fueled my desire to pursue a career through a college education. At the same time, I value the hard work I have done. I would do it again if I could because I have been able to help my family financially and learn very valuable lessons, especially through working with machines. Being exposed to machines, I have built a passion for them, which has made me pursue a career in mechanical engineering. It will be no easy feat, but I know with my skills, I can meet the challenge.
Announcing our 2016 Scholarship Recipient – Trenati Baker
June 2016
Trenati Baker will begin her studies at Amherst College this fall. She has been awarded the 2016 PBKACA Scholarship. We are thrilled to provide assistance to this young woman who we know has a bright future.
Trenati provided PBKACA with the following letter:
To Phi Beta Kappa Scholarship Committee,
It is with humility and profound gratitude that I accept the 2016 Phi Beta Kappa Association of Chicago Area scholarship. I am deeply honored to be this year's recipient of the scholarship.
Currently, I am a senior at Whitney M. Young Magnet High School where, among many things, I am a part of the work study program with an internship at Salesforce, the Chicago Students Union, Freshman Mentors, Zumba Dance Club, On The Money magazine, and Fit4You, a nonprofit organization that I co-founded four years ago. In the coming weeks, I will graduate high school with high honors as a result of my favorable standardized test scores and grades. The fall marks my transition into college. I will attend Amherst College with an intended double major of African American Studies and Political Science. My interests lie deeply in law and policy-making and come from my desire to resolve the issues in America.
This scholarship will ease some of the financial burdens of pursuing my post-secondary education. It will allow me to focus on my collegiate learning experience rather than worrying about how I'll pay for it. Additionally, it will allow me to continue fight for and encourage food justice, financial literacy, and educational equity. Simultaneously, this scholarship will allow me to immerse myself into new organizations at my college campus, like the Black Students Union, Amherst College Outing Club, and WAMH (Amherst Radio).
All in all, the Phi Beta Kappa Association of Chicago Area scholarship will remove financial stress and worry which will allow me to have more energy and time to be a more multi-dimensional student. This alone will allow me to be more successful in reaching my dream of becoming a lawyer, and, one day, a Supreme Court justice.
Positive change can be made by anyone. I plan to make positive change in the future, and this scholarship will greatly help me along that path.  Thanks again for this generous and meaningful scholarship and honor.
Best Wishes,
Trenati Baker
Update from our 2015 Scholarship Recipient—Anthony Zhao
November 2015
Dear PBKACA,
I am writing from the midst of my freshman fall semester, and yet, there is so much I can talk about. I was nervous coming into this school year. I am far from my friends and family and the thought worried me; I had never truly been alone. Luckily there were others like me who I met through icebreakers scheduled by the dorm. These connections helped me get through each week. We spent most of our time together, and my new friends made me feel comfortable here. Because of them, the university has grown on me, and I consider this my home.
There is more free time here in college. My courses however, take a majority of my time. I have needed to hone my time management skills in order to involve myself outside of academics. I allocate some of the remaining time to a fraternity I pledged to. I am also hoping to pick up another extracurricular, but I am not entirely sure which to choose from. I checked out a couple of the clubs and those I do not see myself wanting to stick with. I am hoping I find something, though now might be a difficult time to do so. Most clubs are highly invested already. If I cannot find something soon, I am targeting the spring semester. I have high hopes that it will work out; out of the absurd amount of extracurricular activities offered, I believe I will find a gem.
I am ecstatic here at Urbana-Champaign. Yes, there may be rough patches here and there but ultimately I love it here. I must give thanks to PBKACA too since their generosity is a big factor in why I can enjoy myself here. Their belief in me has enabled me to focus solely on college. I hope to be able to live up to their expectations as I look to make the right choices for my future.
Thank you,
Anthony Zhao
Freshman, University of Illinois at Urbana-Champaign